Pub Insurance
Pub insurance or public house insurance is designed to protect all types of licensed premises such as restaurants, bars or a late night bar.

We can arrange cover for you that includes:

• Public Liability Insurance
• Employers' Liability Insurance
• Business Interruption Insurance
• Stock and Fixtures & Fittings
• Money Cover
• Buildings and Domestic Contents

GET A QUOTE NOW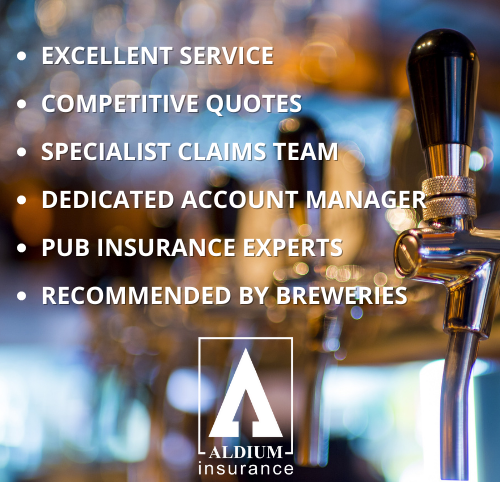 Why Choose Aldium for your Pub Insurance?
Aldium Insurance has been protecting pubs for over 20 years with competitive insurance policies.
We know where the pitfalls are, what the risks are and how to keep these to a minimum.
As each pub is different we believe each needs bespoke advice tailored to their particular needs.
Some pubs have dedicated restaurants, some letting rooms, others children's play areas and organised entertainments.
We know which Insurers pitch their cover and prices to what type of pubs so we can get the best licensee insurance for our Clients and have specialist staff dedicated solely to providing that knowledge and advice for our Pub clients.
QUOTE
What does Pub insurance cover?
Pub insurance helps you manage the risks to your business. Lets take a look at a few of the core covers.
Public Liability Insurance

Public liability for pubs covers claims made against you if a member of the public gets hurt or injured when they're on your premises.
Employers' Liability Insurance
If you have full-time, part-time or temporary staff then employers' liability insurance is a legal requirement and can cover you against injury claims from staff.
Business Interuption Insurance
Help if you suffer from an incident such as fire or flood which closes your doors whilst repairs or refurbishment is carried out to keep your income protected.
Stock and Fixtures & Fittings
Your pub is filled with many items and possesions that add to the character and atmosphere. Protect them against fire, theft, flood, loss and damage.
Money Cover
Covering robbery during business hours or cash in transit to and from the bank, also theft of cash left in the tills overnight or in a locked safe, subject to specified amounts
Buildings and Domestic Contents
Buildings cover can be arranged for freehold premises and Domestic Contents cover is available if required to look after your own possessions in the flat above the pub.
Client Testimonials
Don't take our word for it – here's what our clients say:
Aldium went through more detail than my previous brokers. Giving me reassurance that i am protected.
John
From start to finish it was a pleasure, I was really looked after. Would highly recommend 10/10
Conor
Very knowledgeable and helpful. They helped me get a competitive quote.
Martin
Frequently Asked Questions | Pub Insurance
Why do I need Pub insurance?
There's a lot to think about when you're running a pub, whether it's a local village pub, a bar, or a party venue. And one item on your to-do list should be making sure you've got the right insurance in place to protect you, your business and, your customers. We can arrange cover to protect your stock, fixtures and fittings, customers, money and more.
For a pub, stock insurance covers all the items you sell, including wines, beers, spirits, and food. These are likely to be valuable and you should look to cover these.
What is Loss of Licence cover?
Your pub couldn't trade if you lost your licence leaving you in a difficult position. This insurance could cover you for some loss of earnings, if that ever happened because of reasons beyond your control. ­­ An example could include if your local council revoked your licence because of complaints about noise in the local area that wasn't your fault. However you wouldn't be covered, if you lost your licence for selling alcohol to underage drinkers because that's illegal and was within your control.
Money cover can form part of your bespoke pub package policy covering you for robbery during business hours or cash in transit to and from the bank, also theft of cash left in the tills overnight or in a locked safe, subject to specified amounts
GET QUOTES
Let us compare the market for you and search our panel of leading insurers for a competitive pub insurance package.